APAC SEA FREIGHT TRANSPORT MARKET - GROWTH, TRENDS AND FORECASTS (2023-2028)
When talking about a mode of transportation, maritime freight transport is used to describe the movement of commodities by sea. In some circumstances, pre- and post-shipping operations might be included in maritime transit. The APAC sea freight transport market covers the economic overview of the region while covering the market segmented by type, and country.
Total Number of Companies in APAC: 14,643,209
Number of Companies in Transportation and Warehousing Sector in APAC: 312,593
Market Size of the APAC Sea Freight Transport Market: USD xx billion
Brief on the APAC Sea Freight Transport Market
The APAC Sea Freight Transport Market is estimated to grow with a compounded annual growth rate of about xx% during the forecasted period of 2023-2028. 
The APAC sea freight market is a significant and dynamic sector in the global shipping industry. The Asia-Pacific region is a crucial hub for maritime trade, given its strategic location and the presence of some of the world's busiest ports. This region is home to some of the world's fastest-growing economies, including China, India, Japan, South Korea, and Southeast Asian countries. The robust economic growth in these countries has driven increased trade and demand for sea freight services.
APAC is also known for its well-established trade routes, including major shipping lanes such as the Asia-Europe trade lane, Asia-North America trade lane, and intra-Asia trade. These routes facilitate the movement of goods between the region and other parts of the world.
The region boasts an extensive network of ports equipped with modern infrastructure and facilities to handle large volumes of cargo. Ports like Shanghai, Singapore, Hong Kong, Busan, and Dubai are among the busiest and most important in the world.
APAC is a major manufacturing hub for various industries, including electronics, automotive, textiles, and consumer goods. These industries rely heavily on sea freight to transport raw materials and finished products to global markets.
The rise of e-commerce in the APAC region has increased the demand for efficient sea freight services to transport goods purchased online between countries and continents.
Some companies are diversifying their manufacturing bases beyond China to countries in Southeast Asia, such as Vietnam, Indonesia, and Thailand. This shift has led to changes in trade routes and increased demand for sea freight services in these regions.
The signing of trade agreements, such as the Regional Comprehensive Economic Partnership (RCEP) and the Comprehensive and Progressive Agreement for Trans-Pacific Partnership (CPTPP), has further boosted trade within the APAC region.
Development of Ports in the Region
Port development in the Asia-Pacific (APAC) region has been a significant area of focus for many countries to support their growing economies and facilitate international trade. APAC is home to some of the world's busiest ports, given its strategic location and role as a major crossroads for global maritime trade.
Many APAC countries have undertaken projects to expand existing container terminals or construct new ones to accommodate larger vessels and handle the increasing volume of containerized cargo. This includes deepening harbors, adding more berths, and investing in state-of-the-art container handling equipment.
Countries have embarked on the development of mega ports that can handle massive cargo volumes and serve as major transshipment hubs. These ports are equipped with advanced infrastructure and have the capacity to handle large container ships. Some countries in the region are investing in building entirely new ports in strategic locations to enhance connectivity and facilitate trade. Greenfield port projects often involve comprehensive planning to ensure efficient logistics and seamless integration with the existing transportation network.
Existing ports are undergoing modernization and upgrades to improve cargo handling efficiency and reduce turnaround times. Developing efficient road and rail links to connect ports with hinterland regions is crucial to ensure the smooth flow of goods to and from the port facilities. This includes investing in road and rail infrastructure to handle increased cargo traffic and improve logistics connectivity.
Many APAC ports are embracing sustainability practices to reduce their environmental impact. This includes the use of renewable energy sources, shore power facilities for vessels, and implementing eco-friendly port operations. Some countries have established SEZs and FTZs within or near port areas to attract foreign investment and encourage international trade. These zones offer various incentives and streamlined customs processes to facilitate business activities.
Overall, port development in the APAC region is driven by the need to meet the growing demands of international trade, capitalize on the region's economic growth, and maintain competitiveness in the global shipping industry. As APAC continues to play a vital role in the world's maritime trade, investments in port infrastructure remain crucial for sustainable economic development and trade facilitation.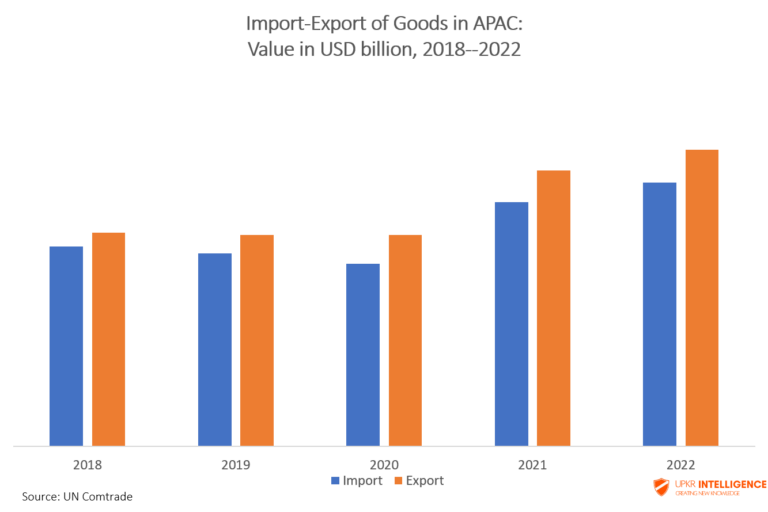 The Asia-Pacific (APAC) ocean freight market is highly competitive, with numerous global and regional players vying for market share. The APAC region is a critical hub for maritime trade, given its strategic location and the presence of some of the world's busiest ports.

The region accounts for a substantial share of global trade, making it an attractive market for ocean freight companies looking to expand their operations and serve a vast customer base.

APAC is home to some of the world's fastest-growing economies, and this economic growth drives increased demand for ocean freight services to move goods to and from the region.

APAC is a major manufacturing hub, producing a wide range of goods for export to various markets worldwide. Ocean freight providers compete to secure shipping contracts for the movement of these export goods.

Pricing is a critical factor in the ocean freight industry, and companies often compete to offer competitive rates and cost-efficient solutions to attract and retain customers. Building and maintaining strong customer relationships is vital in the highly competitive market. Ocean freight providers that offer excellent customer service and responsiveness can gain a competitive edge.
Key players in the APAC ocean freight market include global shipping lines and logistics companies, as well as regional carriers and niche operators. Some of the largest and most prominent shipping lines operating in the APAC region include Maersk, MSC (Mediterranean Shipping Company), CMA CGM, COSCO Shipping, Hapag-Lloyd, and Evergreen Line, among others.
Why buy this report on the

APAC Sea Freight Transport Market
UPKR Intelligence market research reports enable you to:
Understand the market

Pinpoint the key industry trends

Identify threats and opportunities

Quickly build competitive intelligence
This report on APAC Sea Freight Transport Market:
Provides the data on economic status of 

APAC region

, trade relations, modal engagement and market size information to assist with planning and strategic decisions.

It helps you understand market dynamics to give you a deeper understanding of industry competition and the supply chain.
Analyses key performance and operational metrics so that you can benchmark against your own business, that of your customers' businesses, or your competitors' businesses.
The APAC Sea Freight Transport Market research report includes:
Analysis of the important factors influencing this industry's history, including data
Five-year market projection and trends identified
For the primary products and markets, thorough research and segmentation
Analysis of key players in the market, their shares and the competitive environment

 
UPKR Intelligence is a market research company fully concentrated on the logistics domain. We cover the entire market including the dynamic trends, various segments and the market competition via the analysis of the companies operating in the market to arrive at conclusions to aid the needs of our clients. 
Market Overview


Economic Overview of APAC
Overview on APAC Sea Freight Transport Market
Inter-modal Share of Freight Transportation in APAC

Market Dynamics


Market Drivers
Restraints

Value Chain Analysis
Porter's Five Forces Analysis

Spotlight on Infrastructural Development in APAC (Covers Investment on Infrastructure)

 

Government Regulations and Initiatives
Spotlight on Trade Activities in APAC
Insights on Factors Affecting the Freight Rates

Spotlight on Containerization in APAC Transportation Sector

 

Spotlight on Dredging Facilities in APAC
Insights on Inland Water Transportation Network in the Region
Market Segmentation


By Type


Less than Container Load (LCL)
Full Container Load (FCL)
Others

By Country 




China
Japan
Australia
Indonesia
India
Rest of APAC

Competitive Landscape


Market Concentration Overview
Company Profiles


Maersk Line
Mediterranean Shipping Company 
COSCO Shipping Lines
CMA CGM Group
Hapag-Lloyd
Evergreen Marine Corporation
Orient Overseas Container Line (OOCL)
Yang Ming Marine Transport Corporation
Hyundai Merchant Marine
ANL Container Line

Outlook and Opportunities in the Market
Appendix


GDP Distribution and Growth by Economic Activities
Inflation Statistics
Contribution of the Transport and Storage Sector to GDP