ASEAN ROAD FREIGHT TRANSPORT MARKET - GROWTH, TRENDS AND FORECASTS (2023-2028)
The ASEAN road freight transport market focuses on the region's trucking industry. Road freight is the movement of commodities by motor vehicles via a network of roads from one site to another (a place of loading and a place of unloading). The report also covers the economic overview of the country along with the market segmented by end users, distance, truckload, destination, temperature and countries.
Total Number of Companies in ASEAN: 795,497
Number of Companies in Transportation and Warehousing Sector in ASEAN: 38,399
Market Size of the ASEAN Road Freight Transport Market: USD xx billion (2021)
Brief on the ASEAN Road Freight Transport Market
The ASEAN Road Freight Transport Market is estimated to grow with a compounded annual growth rate of about xx% during the forecast period of 2023-2028.
Economic data suggest that trade across Asia will grow in the upcoming years as demand is boosted by post-Covid-19 recovery. The demand for contract logistics, forwarding, haulage, and the parcel supply chain will be directly impacted by this.
In the months and years to come, new trade agreements and favourable rules are expected to promote intra-Asian trade in a number of ways. The easing of company regulations and the lowering of trade barriers will promote commerce and economic growth. Since most of Asia is connected by land, many clients find trucking services to be an affordable and effective option.
Due to consumer expenditure on e-commerce and the need for door-to-door logistics services, cross-border trucking in Southeast Asia and from ASEAN to other regions of Asia is still increasing. Now accounting for about one-third of ASEAN's logistics market, road freight is predicted to increase faster than other regions' use of trucking logistics services over the next ten years.
For DHL, one of the biggest logistics firms in the world, the expansion of the local e-commerce market has driven up demand for cross-border shipping. As manufacturing recovers and businesses regionalize and diversify their supply chains, the economic growth in many of Southeast Asia's top economies has resumed, fueling the anticipated recovery. Similar predictions are made for Malaysia, where this year's market is anticipated to have a 6% little economic resurgence.
ASEAN Turning into a Logistics Hub
ASEAN has developed into a global centre for manufacturing over the past 20 years because to consistently rising investment flows and GDP development. The main factors driving foreign companies to further expand their production into ASEAN today are rising labour costs, supply chain issues, and geopolitical tensions, with Singapore, Indonesia, Thailand and Vietnam leading as key prospects in the region.

Manufacturing clusters that are well-established already exist in the region. This includes semiconductors, biopharmaceuticals, and aerospace components in Singapore; electronics in Malaysia and Vietnam; vehicles and packaged foods in Thailand; machinery and petrochemicals in Indonesia; packaged foods and garments in the Philippines. Manufacturers looking for cheap labor have long looked to Southeast Asia's growing countries, while Singapore has historically been a centre for high-value R&D-intensive businesses and trade-supporting services like finance and logistics.
Since it combines low prices, specialized skills, and largely unrestricted access to both Western and Asian markets, Southeast Asia is an excellent choice for new industrial locations. The ASEAN economies of Indonesia, Malaysia, the Philippines, and Thailand are among of the most cost-competitive in the world when it comes to pay rates that have been adjusted for productivity. Ecosystems are also developing to serve sectors of the economy other than those seeking labor arbitrage. For instance, Samsung listed a number of factors for choosing Vietnam as a new manufacturing hub in the area, including the country's young, educated workforce, extensive internet access, domestic venture capital ecosystem, and government incentives and support.
The ASEAN's participation in extra-regional trade agreements has enhanced its reputation as a centre of global industry. For instance, the ASEAN Economic Community (AEC) sees ASEAN as an unified market and industry hub. Meanwhile, large-scale trade agreements like the Regional Comprehensive Economic Partnership (RCEP) are steps towards a more comprehensive Free Trade Area of the Asia-Pacific (FTAAP), which act as a valuable intergovernmental forum on free trade.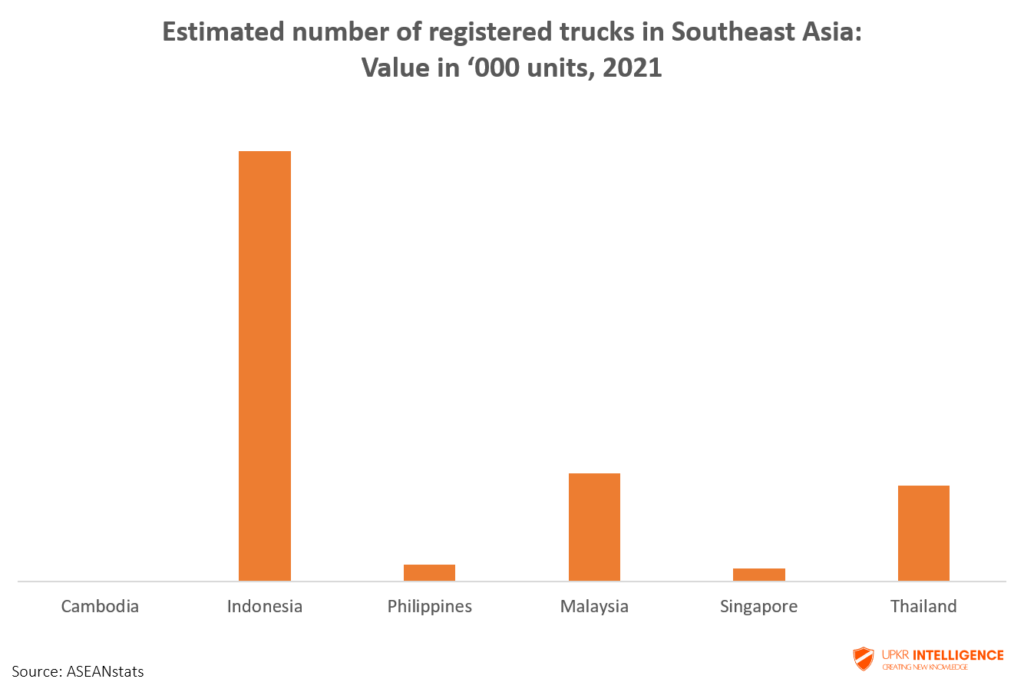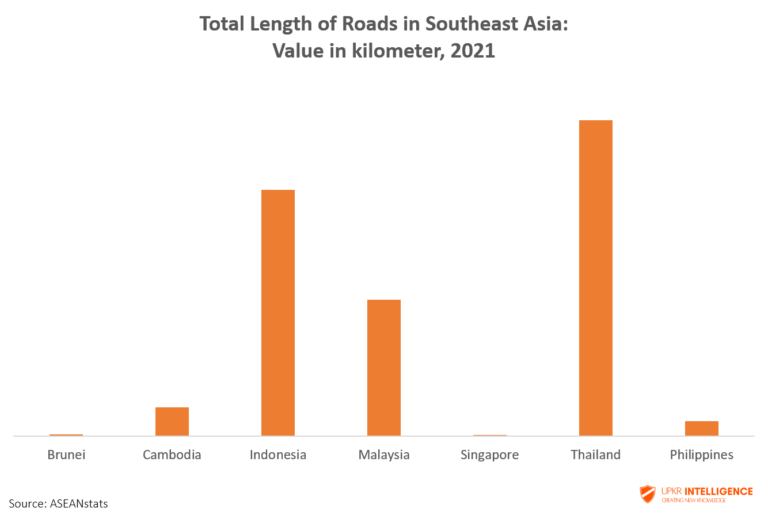 The ASEAN Road Freight Transport Market is fragmented, having a mix of significant global and domestic businesses. With a significant number of local players and several major players, the countries in the region are exploring their expanding capabilities with the developing trade relations and tech trends.
In order to expand their geographic reach, service offerings, and product portfolios, the companies in the market strive to grow both organically and inorganically. 
The companies are facing immense competition in terms of technological adaptability, delivery price and delivery time. 
Industry sources claim that Deutsche Post DHL Group occupies a key position in the ASEAN Road Freight Transport market accompanied with Kerry Logistics Network Limited, MOL Logistics, Yamato Transport, and Expeditors International among others. 
Why buy this report on ASEAN Road Freight Transport Market
UPKR Intelligence market research reports enable you to:
Understand the market

Pinpoint the key industry trends

Identify threats and opportunities

Quickly build competitive intelligence
This report on ASEAN Road Freight Transport Market:
Provides the data on economic status of 

ASEAN region

, trade relations, modal engagement and market size information to assist with planning and strategic decisions.

It helps you understand market dynamics to give you a deeper understanding of industry competition and the supply chain.
Analyses key performance and operational metrics so that you can benchmark against your own business, that of your customers' businesses, or your competitors' businesses.
The ASEAN Road Freight Transport Market research report includes:
Analysis of the important factors influencing this industry's history, including data
Five-year market projection and trends identified
For the primary products and markets, thorough research and segmentation
Analysis of key players in the market, their shares and the competitive environment

 
UPKR Intelligence is a market research company fully concentrated on the logistics domain. We cover the entire market including the dynamic trends, various segments and the market competition via the analysis of the companies operating in the market to arrive at conclusions to aid the needs of our clients. 
Market Overview


Economic Overview of the ASEAN
Overview on ASEAN Road Freight Transport Market  
Inter-modal Share of Freight Transportation in ASEAN

Market Dynamics


Market Drivers
Restraints

Value Chain Analysis
Porter's Five Forces Analysis

Spotlight on Infrastructural Development in ASEAN (Covers Investment on Infrastructure, Length of Roads Paved and Unpaved)

 

Government Regulations and Initiatives
Spotlight on Trade Activities in ASEAN
Insights on Factors Affecting the Freight Rates

Spotlight on Containerization in ASEAN Transportation Sector

 

Market Segmentation for ASEAN Road Freight Transport Market 


By End-Users


Agriculture, Fishing and Forestry
Construction
Manufacturing
Mining
Trade (Wholesale and Retail)
Others

By Destination


Domestic
International

By Truckload


Full Truckload (FTL)
Less Than Truckload (LTL)

By Distance


Long Haul
Short Haul

By Temperature


Controlled
Non-Controlled

By Country


Singapore

 

Thailand
Indonesia
Rest of ASEAN

Competitive Landscape


Market Concentration Overview of ASEAN Road Freight Transport Market 
Company Profiles (list not exhaustive)


Outlook and Opportunities in the ASEAN Road Freight Transport Market 
Appendix


GDP Distribution and Growth by Economic Activities
Inflation Statistics
Contribution of the Transport and Storage Sector to GDP