COURIER, EXPRESS, AND PARCELS (CEP) MARKET - GROWTH, TRENDS AND FORECASTS (2023-2028)
Courier, Express and Parcel (CEP) refers to the collection of services that involves the delivery of various goods and products through different mediums such as air, water and land across regions.
The report provides a thorough background analysis of the CEP Market, which covers market overview, market size estimation for key segments and emerging trends in the market segments, market dynamics, competition and key component flow statistics. 
Total Number of Companies: xx
Number of companies in Transportation and Warehousing: xx 
Market Size of the CEP Market: ~USD xx
The CEP Market is estimated to grow with a compounded annual growth rate of about xx% during the forecasted period of 2023-2028.
The market is being driven by rising e-commerce traffic added with a rise in the number of parcel shipments in the B2C market. The rise in global trade and rising consumer demand are driving the CEP sector's remarkable growth in developing nations.
Strong domestic e-commerce sales have been the main driver of growth in the international express markets. In most regions, domestic markets have grown more swiftly than global markets, but the difference is closing considerably in others.
The CEP sector is expanding rapidly in emerging nations, propelled by increased global trade, increasing internet and smartphone use, which is boosting e-commerce sales, a growing middle-class population, rising disposable incomes, and rising living standards. In addition to e-commerce, the CEP business is also driven by rising trends in omnichannel retailing in some countries and expansion in trade fueled by economic growth.
The surge in Internet and smartphone users, enhanced legislative reforms, digitization of the economies and an increase in disposable income have all contributed to the market's exponential growth over the past five years. With their e-booking, businesses like Lufthansa Cargo have made investments in digital capabilities. A similar approach is taken by Qatar Airways Cargo.
The rise of same-day delivery is another trend that is having an impact on courier services. This is particularly true in cities, where clients are frequently prepared to pay more for the convenience of having their orders delivered the same day they are placed. In order to satisfy this demand, couriers must offer prompt and effective service.The last-mile delivery industry is undergoing a significant transition as businesses consider alternatives including delivery lockers, pickup locations, crowdsourcing deliveries, drone deliveries, and autonomous cars. The package sector is being reinvented as a result of technological advancement. 
Spotlight on Cross-Border E-Commerce
Internet information technology is the foundation of international B2C e-commerce. As a result, it facilitates paperless transactions, broadens the network for growing businesses, and removes barriers brought on by downtime. Due to the lower costs and increased profitability of e-commerce trades, many businesses are concentrating on expanding globally. Growing firm mergers & acquisitions for expansion and increased international trade between nations are expected to produce profitable market prospects.
With the development of cutting-edge e-commerce technology like digital wallets for making secure online payments, the market's potential for growth has expanded. For instance, in August 2019, Citibank introduced a worldwide wallet that enables its customers to make an online purchase across 150 countries without the need for currency conversion.
Additionally, free trade agreements and globalization with welcoming Foreign Direct Investment (FDI) policies are anticipated to encourage international e-commerce. Customers may buy conveniently and affordably as a result, which is encouraging for the industry's expansion.
Cross-border e-commerce is increasingly important for starting and growing an online business. Brands are starting to think about expanding their e-commerce businesses into other countries after years of doing so in a local or national market. Asia-Pacific (APAC) specifically experienced the growth in cross-border e-commerce sales given the rising middle class and the increased demand for imported goods.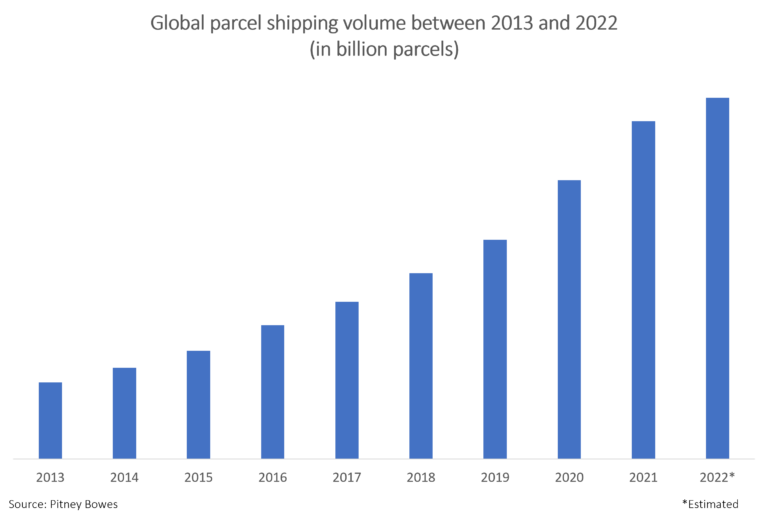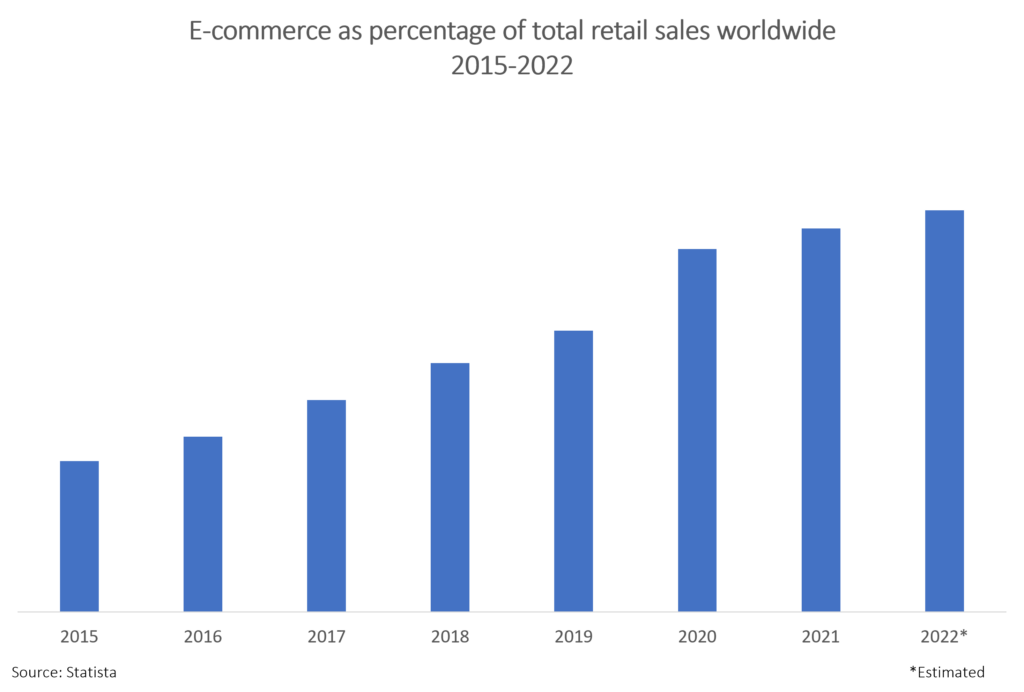 The CEP Market is highly fragmented. E-commerce is still a major force in the development of the international express and small packages sector. In order to expand their geographic reach, service offerings, and product portfolios, the companies in the market strive to grow both organically and inorganically. To build a regional logistics network, the international players are strategically investing in new distribution centres, smart warehouses, etc. Local businesses compete fiercely with global corporations that have infrastructure that is fairly well-developed. The advantage still belongs to indigenous enterprises in the regional setting.
The companies are facing immense competition in terms of technological adaptability, delivery price and delivery time. Customers are expecting more from their delivery providers, as previously mentioned, and the development of technology that will enable the sector meet these demands has been accelerated by a highly competitive climate as well as customers' great cost sensitivity. When taken as a whole, these developments demand that last-mile players adopt these new technologies right away. The last-mile industry's ecosystem as a whole, including its competitive dynamics and the allocation of value among competitors, will be impacted by the growing significance of technology.
Industry sources claim that DHL occupies a key position in the global CEP market accompanied with CEVA, FedEx, Poste Italiane and Aramex among others.
Why buy this report on the CEP Market?
UPKR Intelligence market research reports enable you to:
Understand the market

Pinpoint the key industry trends

Identify threats and opportunities

Quickly build competitive intelligence
This report on CEP Market:
Provides the data on global economic status

, trade relations, modal engagement and market size information to assist with planning and strategic decisions.

It helps you understand market dynamics to give you a deeper understanding of industry competition and the supply chain.
Analyses key performance and operational metrics so that you can benchmark against your own business, that of your customers' businesses, or your competitors' businesses.
The CEP Market research report includes:
Analysis of the important factors influencing this industry's history, including data
Five-year market projection and trends identified
For the primary products and markets, thorough research and segmentation
Analysis of key players in the market, their shares and the competitive environment

 
UPKR Intelligence is a market research company fully concentrated on the logistics domain. We cover the entire market including the dynamic trends, various segments and the market competition via the analysis of the companies operating in the market to arrive at conclusions to aid the needs of our clients. 
Market Overview


Global Economic Overview
Overview on Global CEP Market

Market Dynamics


Market Drivers
Restraints

Value Chain Analysis
Porter's Five Forces Analysis

Government Regulations and Initiatives

Technological Developments in the Market 
Spotlight on Shipping Rate
Insights on Last Mile Delivery
Insights on Storage and Value-added Services
Insights into Reverse Logistics
Impact of COVID-19 on the Market
Market Segmentation


By Business




Business-to-Business (B2B)
Business-to-Customer (B2C)
Customer-to-Customer (C2C)

By Destination




Domestic
Cross-Border

By End-Users




Service Sector
Wholesale and Retail Trade
Manufacturing and Construction
Other End-Users

Competitive Landscape


Market Concentration Overview
Company Profiles (list not exhaustive)


Outlook and Opportunities in the Market
Appendix


GDP Distribution and Growth by Economic Activities
Inflation Statistics