THAILAND FREIGHT AND LOGISTICS MARKET - GROWTH, TRENDS AND FORECASTS (2023-2028)
The report provides a thorough background analysis of the Thailand Freight and Logistics Market, which covers market overview, market size estimation for key segments and emerging trends in the market segments, market dynamics, competition and key component flow statistics. It also assesses the sector's contribution to the economy.
Total Number of Companies in Thailand: xx
Number of companies in Transportation and Warehousing industry in Thailand: xx 
Market Size of the Thailand Freight and Logistics Market: ~USD xx
Brief on the Thailand Freight and Logistics Market
The Thailand Freight and Logistics Market is estimated to grow with a compounded annual growth rate of about xx% during the forecasted period of 2023-2028.
Thailand has the second-largest growing economy in Southeast Asia. Agriculture, manufacturing, and services make up its three primary economic sectors. Thanks to the advent of digitization and the implementation of new growth plans by the government, the supply chain industry in Thailand has made significant advancements in the past decade.
Thailand is becoming a significant transportation and logistics hub as a result of its expanding infrastructure and advantageous location. The establishment of the ASEAN Economic Community has also increased trade in the area, and numerous global corporations are establishing production and sales facilities here. Strong regional trading activity and increased demand for end-to-end logistics and transportation services are the outcomes.
With the growing free trade agreements with other nations, the logistics sector in Thailand is experiencing growth backed by multinational businesses from a wide range of industries that established operations in Thailand and made joint investments with Thai organisations. 
In Thailand, where more than 80% of net domestic transit is moved on land, making road freight the most significant mode of domestic commodities transport. The nation's two main seaports connect Thailand to a number of significant international shipping routes, and the country has a well developed network of motorways.
Thailand has six international airports and more than ten roads that connect it to its neighbours. In addition, the North-South Economic Corridor, East-West Economic Corridor, and Southern Economic Corridor all serve as vital connections to neighbouring GMS (Greater Mekong Subregion) nations. Additionally, the Thai government is heavily supporting infrastructure and transportation development to transform the nation into ASEAN's premier logistics hub in order to fully use its strategic location within the GMS.
Spotlight on Industrial Production in Thailand
The 
Manufacturing 
Production 
Index 
(MPI) 
was 
105.16 
points 
in 
Q1/2022, 
up 
1.4 
percent

(100.17 

points)
over 
the 
same 
quarter 
in 
2021 
and 
4.98 
percent

(103.70 

points)
from 
the 
previous 
quarter
. 
In 
the 
first 
half 
of 
2022, 
the 
Thai 
economy 
saw 
growth 
in 
the 
production 
sector, 
particularly 
in 
the 
areas 
of 
fruits, 
vegetables, 
mung 
beans, 
cassava, 
sugarcane, 
pineapple, 
palm 
oil, 
automobiles, 
furniture, 
jewellery, 
electronics, 
leather, 
and 
rubber. 
The 

output 

of 

cars, 

trucks, 

and 

other 

vehicles 

with 

diesel 

engines 

increased 

by 

63.37% 

year 

over 

year 

in 

August, 

with 

these 

three 

types 

of 

vehicles 

accounting 

for 

the 

majority 

of 

the 

growth.

The output of petroleum products increased by 17.6% year over year, mostly due to an increase in the production of aviation fuel and diesel fuel, which was aided by a rebound in tourism.
Following the Covid-19 outbreak, output of air conditioners and parts increased by 54.62% due to increased external demand.
The growth in the manufacture of integrated circuits, which was aided by increasing external demand, was the key factor in the 15.61% year-over-year increase in the production of electronic components and circuit boards.
The recovery of both domestic and international demand led to a 131.01% year-over-year increase in motorcycle manufacturing.
The global economic slowdown would affect all sectors, including exports, tourism, industrial production, and consequently domestic consumption, therefore the nation is projected to have challenges. The Thai economy saw a decline in exports of -4.4% YoY, worth USD 21.7 billion, in the second half of 2022.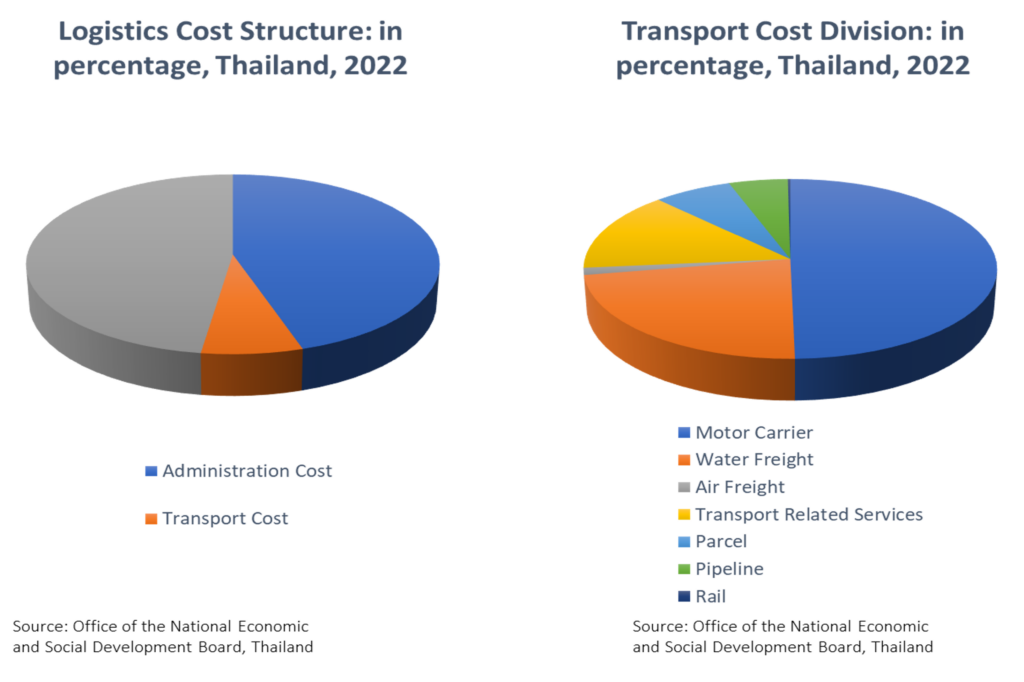 Thailand has a number of advantages due to its geographic location that allow it to become a hub for regional air, water, and multimodal transport. As a result, both domestic and foreign companies are fiercely competitive in the Thai logistics sector. There are a variety of international and local firms in Thailand's logistics market landscape.
Industry sources claim that DHL, which has a stronghold in both air and sea freight as well as experience in 3PL services, occupies a key position in the Thai logistics business. Other international businesses with a sizable market presence in particular categories include CEVA, DB Schenker, Yusen, and FedEx while some of the major local players include MON Logistics Group Co. Ltd and Kiattana Transport Public Company Limited among others.
Why buy this report on the Thailand Freight and Logistics Market?
UPKR Intelligence market research reports enable you to:
Understand the market

Pinpoint the key industry trends

Identify threats and opportunities

Quickly build competitive intelligence
This report on Thailand Freight and Logistics Market:
Provides the data on economic status of 

Thailand

, trade relations, modal engagement and market size information to assist with planning and strategic decisions.

It helps you understand market dynamics to give you a deeper understanding of industry competition and the supply chain.
Analyses key performance and operational metrics so that you can benchmark against your own business, that of your customers' businesses, or your competitors' businesses.
The Thailand Freight and Logistics Market research report includes:
Analysis of the important factors influencing this industry's history, including data
Five-year market projection and trends identified
For the primary products and markets, thorough research and segmentation
Analysis of key players in the market, their shares and the competitive environment

 
UPKR Intelligence is a market research company fully concentrated on the logistics domain. We cover the entire market including the dynamic trends, various segments and the market competition via the analysis of the companies operating in the market to arrive at conclusions to aid the needs of our clients. 
Market Overview


Economic Overview of Thailand
Overview on Thailand Freight and Logistics Market

Market Dynamics


Market Drivers
Restraints

Value Chain Analysis
Porter's Five Forces Analysis

Government Regulations and Initiatives

Technological Developments in the Market 
Spotlight on Freight Rate in Thailand
Insights into Economic Corridors
Impact of COVID-19 on the Market
Market Segmentation


By Function 




Freight Transport
Forwarding
Warehousing
Value-Added Services

By End-Users




Manufacturing
Oil and Gas
Distributive Trade
Construction
Healthcare
Other End-Users

Competitive Landscape


Market Concentration Overview
Company Profiles (list not exhaustive)


Outlook and Opportunities in the Market
Appendix


GDP Distribution and Growth by Economic Activities
Inflation Statistics
Contribution of the Transport and Storage Sector to GDP
External Trade Statistics – Export and Import, by Product
Key Import and Export Destinations