ASEAN E-COMMERCE LOGISTICS MARKET - GROWTH, TRENDS AND FORECASTS (2023-2028)
The report provides a thorough background analysis of the ASEAN E-Commerce Freight and Logistics Market, which covers market overview, market size estimation for key segments and emerging trends in the market segments, market dynamics, competition and key component flow statistics. It also assesses the sector's contribution to the ASEAN economy.
Total Number of Companies in ASEAN: 795,497
Number of Companies in Transportation and Warehousing Sector in ASEAN: 38,399
Market Size of the ASEAN E-Commerce Logistics Market: ~USD xx million
Brief on the ASEAN E-Commerce Logistics Market
The ASEAN E-Commerce Logistics Market is estimated to grow with a compounded annual growth rate of about xx% during the forecast period of 2023-2028.
The COVID-19 epidemic has catapulted Southeast Asia's e-commerce business into a new phase of expansion, which has been accelerating since the middle of the 2010s. The entire amount of online sales increased five times, or 40%, between 2016 and 2021. And from 5% of all retail sales, e-commerce now accounts for 20% of them.
ASEAN is the emerging hub of the e-commerce market, due to the already high and yet growing population, rising disposable income, increasing access to the internet, smartphone penetration, and developing transport infrastructure leading to efficient logistics services with faster and last mile delivery options. The e-commerce market in Southeast Asia is made up of several players and has been an area of significant and great interest for the behemoth Chinese online marketplaces and e-commerce enterprises.
It's not simply about higher value at this new stage of Southeast Asia's e-commerce business. More people on the subcontinent are using more diversified avenues to purchase a greater variety of goods online. Supply networks in the area are changing to meet this broadened variety of fulfilment requests. New logistical capabilities will probably be needed, and existing logistical actors and new competitors who have them will stand to benefit most from these transitions.
Given that the majority of other regions will only experience modest growth in 2021, the ASEAN region's growth stands out all the more. The region experienced the largest global expansion in 2022, at more than 20%. The Philippines, Indonesia, Vietnam, Malaysia, and Thailand will be among the top 10 markets in the area in terms of growth in retail ecommerce sales.

As per the industry experts, in 2023, ecommerce sales growth throughout much of Southeast Asia will experience a fall in the growth rate but will still leave the region with a standout growth rate of about 14.0% in 2023. 
Spotlight on Demand for Grocery Delivery
Leading the way, the grocery industry is anticipating that e-commerce companies would offer ultra-fast delivery or delivery in less than two hours in order to remain competitive during the forecast period. According to industry experts, while the food sector will initially set the trend, personal care and fashion are also expected to want to reduce their delivery times. Moreover, businesses will also begin testing robot delivery services.

Almost 60 million individuals in Southeast Asia are now utilizing the internet for the first time as a result of the global health crisis for anything from keeping in touch with loved ones to doing their weekly grocery shopping.

As more individuals discover the advantages of having goods and services delivered right to their homes, this trend towards relying more heavily on eCommerce is likely to continue. Similar to how many physical retailers, eateries, and service providers saw the advantages of offering online shopping choices. This requirement for speed has become more and more important as the industry develops, with swift commerce in Southeast Asia quickly becoming a part of the economic landscape in part because consumers there aren't ready to wait 3 to 5 days for delivery.

The Food & Beverage (F&B) industry has seen the most rapid commerce startups emerge in Southeast Asia, with food delivery rising by 64% since the start of the pandemic. However, as producers and suppliers of all kinds of goods and services feel the burden of customers' demands for quick delivery, more and more subcategories are emerging.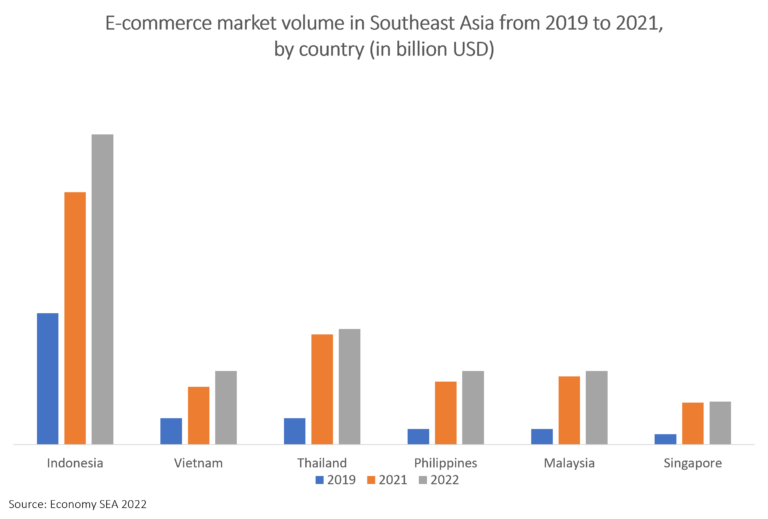 The ASEAN E-Commerce Logistics Market is fragmented, having a mix of significant global and domestic businesses. With a significant number of local players and several major players, the countries in the region are exploring their expanding capabilities with the developing e-commerce penetration and demand for fast deliveries.
In order to expand their geographic reach, service offerings, and product portfolios, the companies in the market strive to grow both organically and inorganically. To build a regional logistics network, the international players are strategically investing in new distribution centres, smart warehouses, etc. Local businesses compete fiercely with global corporations that have infrastructure that is fairly well-developed. The advantage still belongs to indigenous enterprises in the regional setting.
The companies are facing immense competition in terms of technological adaptability, delivery price and delivery time. Customers are expecting more from their delivery providers, as previously mentioned, and the development of technology that will enable the sector meet these demands has been accelerated by a highly competitive climate as well as customers' great cost sensitivity. When taken as a whole, these developments demand that last-mile players adopt these new technologies right away. The last-mile industry's ecosystem as a whole, including its competitive dynamics and the allocation of value among competitors, will be impacted by the growing significance of technology.
Industry sources claim that DHL occupies a key position in the ASEAN e-commerce logistics market accompanied with Pos Indonesia, United Parcel Service, FedEx Corporation, and JNE Express among others.
Why buy this report on the ASEAN E-Commerce Logistics Market?
UPKR Intelligence market research reports enable you to:
Understand the market

Pinpoint the key industry trends

Identify threats and opportunities

Quickly build competitive intelligence
This report on ASEAN E-Commerce Logistics Market:
Provides the data on economic status of ASEAN region

, trade relations, modal engagement and market size information to assist with planning and strategic decisions.

It helps you understand market dynamics to give you a deeper understanding of industry competition and the supply chain.
Analyses key performance and operational metrics so that you can benchmark against your own business, that of your customers' businesses, or your competitors' businesses.
The ASEAN E-Commerce Logistics Market research report includes:
Analysis of the important factors influencing this industry's history, including data
Five-year market projection and trends identified
For the primary products and markets, thorough research and segmentation
Analysis of key players in the market, their shares and the competitive environment

 
UPKR Intelligence is a market research company fully concentrated on the logistics domain. We cover the entire market including the dynamic trends, various segments and the market competition via the analysis of the companies operating in the market to arrive at conclusions to aid the needs of our clients. 
Market Overview


Economic Overview of ASEAN
Overview on ASEAN E-Commerce Logistics Market

Market Dynamics


Market Drivers
Restraints

Value Chain Analysis
Porter's Five Forces Analysis

Government Regulations and Initiatives

Technological Developments in the Market 
Impact of COVID-19 on the Market
Market Segmentation


By Service 




Transportation

Warehousing

Value-Added Services

By Business 




B2B (Business-to-Business)

B2C (Business-to-Customer)

By Destination 




Domestic

International

By Country




Indonesia

Thailand

Singapore

Malaysia

Rest of ASEAN

Competitive Landscape


Market Concentration Overview
Company Profiles (list not exhaustive)


Outlook and Opportunities in the Market
Appendix


GDP Distribution and Growth by Economic Activities
Inflation Statistics
Contribution of the Transport and Storage Sector to GDP
External Trade Statistics – Export and Import, by Product
Key Import and Export Destinations