APAC AIR FREIGHT TRANSPORT MARKET - GROWTH, TRENDS AND FORECASTS (2023-2028)
Air freight is the transfer and shipment of goods via an air carrier (charter or commercial). Such shipments travel out of commercial and passenger aviation gateways to anywhere planes can fly and land. The APAC air freight transport market covers the economic overview of the region while covering the market segmented by service, destination, carrier type and country.
Total Number of Companies in APAC: 14,643,209
Number of Companies in Transportation and Warehousing Sector in APAC: 312,593
Market Size of the APAC Air Freight Transport Market: USD xx billion
Brief on the APAC Air Freight Transport Market
The APAC Air Freight Transport Market is estimated to grow with a compounded annual growth rate of about xx% during the forecasted period of 2023-2028. 
Some of the economies with the quickest rates of growth are found in the APAC area, including those of China, India, and Southeast Asian nations. Increased air freight shipments result from growing internal and international trade as a result of these economies' economic growth.

The demand for air cargo has been significantly influenced by the APAC region's explosive rise of e-commerce. Consumers now anticipate quicker and more dependable delivery thanks to the growth of online shopping and international e-commerce, which air freight can fulfill. Further, the demand has increased as a result of the rising demand for perishable goods like fresh fruits, vegetables, and seafood as well as high-value goods like electronics and pharmaceuticals. These goods must be transported in a timely and secure manner. 

The COVID-19 pandemic brought attention to the value of robust supply chains. The adoption of "just-in-time" inventory management and the diversification of many businesses' supply chains have made air freight the favored alternative for quicker and more flexible logistics solutions.
China and Vietnam stand out among the APAC nations as important centres for export and production for a variety of industries. Transporting time-sensitive components and finished items to global markets requires air freight.
Connectivity has improved as a result of the expansion of airlines and freight companies in the APAC area, which has improved connectivity between cities and nations. This improved network increases the effectiveness and accessibility of air cargo.
A major driver of the expansion of air freight in the APAC area has been the demand for quick deliveries. Consumer expectations for faster deliveries have increased as a result of the APAC region's rapid rise in e-commerce and online purchasing. Air freight offers the speed required to meet the customers' requests for speedy deliveries of their orders.
To cut storage costs and boost productivity, many companies in the APAC area have used just-in-time inventory management techniques. This strategy makes air freight crucial for fast delivery of goods, reducing inventory stockouts, and preserving a continuous supply chain.
Fresh vegetables, seafood, and medications are examples of perishable items that require quick delivery to maintain their quality and shelf life. Additionally, the protection and prompt delivery provided by air freight benefits expensive things like electronics and luxury goods. A few sectors in the APAC area, such the fashion sector, depend on air freight to deliver new collections and time-sensitive goods to retail markets fast.
The APAC region is a significant player in world trade, with several nations exporting commodities to numerous locations. When it comes to meeting rushed delivery deadlines and connecting companies to global markets, air freight excels.
New business prospects are opening up as the APAC region's economy and industrialisation continue to expand. Companies may quickly seize these opportunities and enter growing areas with agility thanks to air freight. commodities like luxury goods and electronics.
Growing Cross-Border E-Commerce
E-commerce's expansion has made it possible for companies in the APAC region to reach customers outside of their own country. Air freight is essential for completing orders sent across continents and countries in cross-border e-commerce, which is growing in popularity.

To support the growing market, there were several trade agreements and initiatives enacted in the region:

One of the biggest trade deals in the world, the Regional Comprehensive Economic Partnership (RCEP) involves 15 APAC nations, including China, Japan, South Korea, Australia, New Zealand, and the ten ASEAN member states. By streamlining customs procedures and fostering digital trade, RCEP supports cross-border e-commerce by lowering trade barriers and facilitating economic integration.
Comprehensive Economic Cooperation Agreement between Australia and India signed in 2020, intended to strengthen Australia and India's economic connections. It has provisions that support e-commerce and digital trade, giving enterprises in both nations the chance to increase their cross-border e-commerce operations.
New Zealand, Singapore, and Chile signed the Digital Economy Partnership Agreement (DEPA) in 2020. By creating standards on data flows, digital customs processes, and consumer protection, among other things, it seeks to boost digital trade and e-commerce.
Comprehensive Economic Partnership Agreement (IK-CEPA) between Indonesia and South Korea: This trade agreement between Indonesia and South Korea, which was signed in 2020, intends to deepen bilateral trade and open up new markets for e-commerce and digital services; and many more.

There were several infrastructure developments in the APAC region supporting cross-border e-commerce. These developments aimed to improve logistics, enhance connectivity, and facilitate seamless cross-border trade in the e-commerce sector.

The infrastructural development includes Enhanced Air Cargo Facilities, Logistics Hubs and Free Trade Zones, Digital Customs Clearance and Paperless Trade, Cross-Border E-commerce Platforms, Digital Payment Solutions, E-commerce Fulfillment Centers, International Logistics Partnerships, Customs Harmonization and Trade Facilitation, Investment in Digital Infrastructure and Smart Ports and Trade Corridors among others.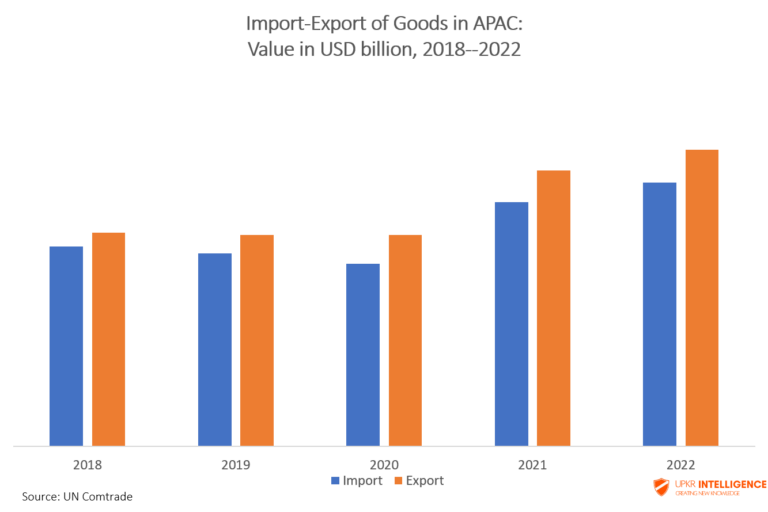 The APAC air freight market is highly competitive, with various players vying for market share and striving to meet the growing demand for air cargo services. The competition in the APAC air freight market is driven by factors such as economic growth, e-commerce expansion, globalization of supply chains, and the region's strategic location as a hub for international trade.
Major global logistics companies, such as DHL, FedEx, and UPS along with regional airlines and cargo carriers, have a strong presence in the APAC region with extensive networks, advanced technologies, and established customer bases, making them key competitors in the market.
Airlines like Cathay Pacific Cargo, Singapore Airlines Cargo, and Korean Air Cargo operate vast air freight networks connecting APAC countries with destinations worldwide.
With the rapid growth of e-commerce in the APAC region, specialized e-commerce logistics providers have emerged. These companies cater to the unique needs of cross-border e-commerce shipments, including last-mile delivery services.
Competition in the APAC air freight market is also influenced by the adoption of innovative technologies. Companies that invest in digital platforms, data analytics, and automation can gain a competitive edge in efficiency and customer service.
Players in the APAC air freight market often differentiate themselves based on service offerings, transit times, reliability, and customer support. Providing value-added services and tailored solutions can be a competitive advantage. Price competition is a significant factor in the air freight market. Companies may adjust their pricing strategies to attract customers while maintaining profitability.
Why buy this report on the APAC Rail Freight Transport Market?​
The APAC Air Freight Transport Market is estimated to grow with a compounded annual growth rate of about xx% during the forecasted period of 2023-2028. 
Why buy this report on the APAC Air Freight Transport Market?
UPKR Intelligence market research reports enable you to:
Understand the market

Pinpoint the key industry trends

Identify threats and opportunities

Quickly build competitive intelligence
This report on APAC Air Freight Transport Market:
Provides the data on economic status of

APAC region

, trade relations, modal engagement and market size information to assist with planning and strategic decisions.

It helps you understand market dynamics to give you a deeper understanding of industry competition and the supply chain.
Analyses key performance and operational metrics so that you can benchmark against your own business, that of your customers' businesses, or your competitors' businesses.
The APAC Air Freight Transport Market research report includes:
Analysis of the important factors influencing this industry's history, including data
Five-year market projection and trends identified
For the primary products and markets, thorough research and segmentation
Analysis of key players in the market, their shares and the competitive environment

 
UPKR Intelligence is a market research company fully concentrated on the logistics domain. We cover the entire market including the dynamic trends, various segments and the market competition via the analysis of the companies operating in the market to arrive at conclusions to aid the needs of our clients. 
Market Overview


Economic Overview of APAC
Overview on APAC Air Freight Transport Market
Inter-modal Share of Freight Transportation in APAC

Market Dynamics


Market Drivers
Restraints

Value Chain Analysis
Porter's Five Forces Analysis
Spotlight on Infrastructural Development in APAC (Covers Investment on Infrastructure, and planned)
Government Regulations and Initiatives
Spotlight on Trade Activities in APAC
Insights on Factors Affecting the Freight Rates
Market Segmentation


By Service


Freight Forwarding
Mail
Other Services

By Destination


Domestic
International

By Carrier Type


Belly Cargo
Freighter

By Country


India
China
Malaysia
Australia
Rest of APAC

Competitive Landscape


Market Concentration Overview of APAC Air Freight Transport Market
Company Profiles


Cathay Pacific Cargo
Singapore Airlines Cargo
Korean Air Cargo
China Airlines Cargo
EVA Air Cargo
ANA Cargo (All Nippon Airways)
Japan Airlines Cargo
Qantas Freight
Air China Cargo
China Eastern Airlines Cargo

Outlook and Opportunities in the Market
Appendix


GDP Distribution and Growth by Economic Activities
Inflation Statistics
Contribution of the Transport and Storage Sector to GDP
List of Tables: 
Contribution of the economic sectors to GDP of APAC – by country
Air transport infrastructure in APAC (Total and by country)
Air enterprises, economic performances and employment in APAC (Total and by country)
Air transport measurement of goods transported in APAC (Total and by country)
Air traffic in APAC (Total and by country)