APAC SAME DAY DELIVERY MARKET - GROWTH, TRENDS AND FORECASTS (2023-2028)
The same-day delivery market is one in which the consumer receives their order within 24 hours or their product is dispatched the same day. The APAC same day delivery market covers the market segmented by type and country.
Total Number of Companies in APAC: 14,643,209
Number of Companies in Transportation and Warehousing Sector in APAC: 312,593
Market Size of the APAC Same Day Delivery Market: ~USD xx
Brief on the APAC Same Day Delivery Market
The APAC Same Day Delivery Market is estimated to grow with a compounded annual growth rate of about xx% during the forecasted period of 2023-2028.   
During the pandemic, there was a surge in e-commerce as people shifted to online shopping due to lockdowns, social distancing measures, and safety concerns. This increase in online orders led to a greater demand for fast and efficient delivery services, including same-day delivery. As a result, many businesses in the Asia-Pacific (APAC) region focused on enhancing their delivery capabilities to meet the rising demand.
Consumers became more accustomed to the convenience of same-day or fast delivery options during the pandemic. As a result, many e-commerce platforms and retailers started offering same-day delivery services to stay competitive and meet customer expectations.
To keep up with the increased demand, logistics companies and e-commerce platforms invested in expanding their delivery networks, warehousing facilities, and last-mile delivery capabilities. This expansion aimed to improve delivery speed and efficiency across the APAC region.
The pandemic accelerated the adoption of automation and AI technologies in the logistics and delivery industry. These technologies helped streamline operations, optimize delivery routes, and manage inventory efficiently, contributing to the growth of same-day delivery services.

The pandemic also encouraged the emergence of delivery startups that specialized in providing same-day delivery services. These startups aimed to fill the gap in the market and cater to the growing demand for quick and reliable deliveries. The pandemic induced a lasting change in consumer behavior, with many people preferring online shopping and expecting faster delivery options. This shift further fueled the growth of the same-day delivery market in the APAC region.
Growing Demand for Grocery Delivery
Despite its relatively small size, the e-grocery category is rapidly growing and has huge potential. Although e-groceries and traditional brick-and-mortar grocery stores account for more than half of Southeast Asia's total retail spending (more than USD 400 billion), e-commerce penetration within the segment is only about 2 percent, or USD 9 billion.
By 2025, e-commerce sales of groceries are expected to accelerate supported by growing mobile penetration in the region and an influx of capital and tech entrepreneurs innovating in this space. A proliferation of digital payments and logistics infrastructure is expected in the near future.
The point-to-point direct-delivery model dominates the last-mile logistics for e-groceries, and many players are already able to execute citywide deliveries within 30 to 60 minutes. It's important for retailers as a core enabler for e-grocery business growth even though it requires huge capital investment, and profits can be difficult to achieve. That's why many retailers are building in-house fleets to execute e-grocery delivery.
With an expected surge in order volumes looming, many retailers may struggle to keep up. An external logistics provider with scale efficiency could find an opportunity to serve as a supplement to or even replacement for these brands' in-house fleets. Despite low profitability, point-to-point delivery could also be a strategic play for express or third-party players, who may want to diversify their logistics offerings. This can be done either through acquisition or by building in-house capabilities organically.
Big retailers, such as Emart and Homeplus in South Korea and Coles and Woolworths in Australia, were leading store brands for online grocery shopping. Many big retailers, such as Flipkart and BigBasket in India, provide q-commerce services. The quick commerce market in India is in its nascent stage, but many retailers plan to expand rapidly in the coming years.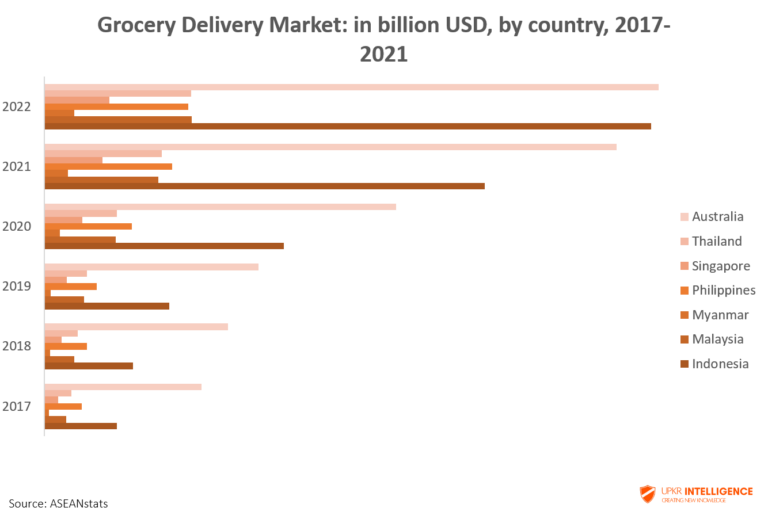 As more companies try to cash in on the rising demand for online grocery shopping and delivery services, the APAC grocery delivery market is seeing intense competition. The introduction of e-commerce and online food shopping was further hastened by the COVID-19 epidemic, increasing market competitiveness for businesses.
Grocery delivery services are being actively expanded by established e-commerce platforms with a significant regional presence, including Amazon in some Southeast Asian nations, Alibaba (including its subsidiary Taobao and Tmall) in China, Flipkart in India, and local e-commerce firms and marketplaces like JD.com in China and Lazada in Southeast Asia. To offer food along with other things, they made use of their current clientele and infrastructure.
BigBasket in India, RedMart in Singapore (now integrated with Lazada), and HappyFresh, which operates in several Southeast Asian nations, are examples of dedicated online grocery platforms that are completely focused on delivering groceries and establishing alliances with neighborhood supermarkets and grocery stores. To offer online grocery shopping, many grocery chains and supermarkets built their own e-commerce websites or cooperated with outside delivery firms.
Meituan Dianping in China and GrabFood in Southeast Asia are two food delivery firms that have expanded their offerings to include grocery delivery. For speedy and effective grocery deliveries, they made use of their existing delivery team.
With cutting-edge delivery options for groceries, many entrepreneurs and internet companies entered the market. While some concentrated on improving the supply chain and inventory management for food merchants, others offered solutions for logistics and last-mile deliveries.
Companies are trying to set themselves apart by providing characteristics like quick delivery, a large selection of products, affordable pricing, and exceptional customer service as the rivalry in the grocery delivery sector heated up. Gaining a competitive edge also required the use of new technology and collaborations with neighborhood supermarkets.
Brief on the APAC Same Day Delivery Market
UPKR Intelligence market research reports enable you to:
Understand the market

Pinpoint the key industry trends

Identify threats and opportunities

Quickly build competitive intelligence
This report on APAC Same Day Delivery Market:
Provides the data on economic status of 

APAC region

, trade relations, modal engagement and market size information to assist with planning and strategic decisions.

It helps you understand market dynamics to give you a deeper understanding of industry competition and the supply chain.
Analyses key performance and operational metrics so that you can benchmark against your own business, that of your customers' businesses, or your competitors' businesses.
The APAC Same Day Delivery Market research report includes:
Analysis of the important factors influencing this industry's history, including data
Five-year market projection and trends identified
For the primary products and markets, thorough research and segmentation
Analysis of key players in the market, their shares and the competitive environment

 
UPKR Intelligence is a market research company fully concentrated on the logistics domain. We cover the entire market including the dynamic trends, various segments and the market competition via the analysis of the companies operating in the market to arrive at conclusions to aid the needs of our clients. 
Market Overview


Economic Overview of APAC
Overview on APAC Same Day Delivery Market

Market Dynamics


Market Drivers
Restraints

Value Chain Analysis
Porter's Five Forces Analysis

Government Regulations and Initiatives

Technological Developments in the Market
Spotlight on E-Commerce Market in APAC 
Market Segmentation


By Type


B2B

B2C

By Country 




China
India
Indonesia
Australia
Japan
Thailand
Rest of APAC

Competitive Landscape


Market Concentration Overview
Company Profiles


Company 7
Alibaba
JD.com
BigBasket
HappyFresh
RedMart (now integrated with Lazada)
Meituan Dianping
Amazon
Flipkart
Lazada
Blinkit

Outlook and Opportunities in the Market
Appendix


GDP Distribution and Growth by Economic Activities
Inflation Statistics
Contribution of the Transport and Storage Sector to GDP