APAC MULTIMODAL FREIGHT TRANSPORT MARKET - GROWTH, TRENDS AND FORECASTS (2023-2028)
A single contract for the delivery of products using at least two different modes of transportation is referred to as multimodal transport (also known as combined transport). The carrier is still responsible for the entire carriage even when it uses many different modes of transportation (by rail, sea, road, and air). The APAC multimodal freight transport market covers the economic overview of the region while covering the market segmented by end-users, destination, and country.
Total Number of Companies in APAC: 14,643,209
Number of Companies in Transportation and Warehousing Sector in APAC: 312,593
Size of APAC Multimodal Freight Transport Market: ~USD xx million
Brief on the APAC Multimodal Freight Transport Market
The APAC Multimodal Freight Transport Market is estimated to grow with a compounded annual growth rate of about xx% during the forecasted period of 2023-2028. 
APAC is a significant hub for global trade, with many countries engaged in export-oriented manufacturing and international commerce. Given the region's vast and diverse geography, consisting of numerous countries with varying levels of industrialization and infrastructure, multimodal transport becomes essential to navigate this diversity efficiently.
The region has been actively investing in infrastructure to support and enhance multimodal logistics, recognizing the benefits of integrated transportation for efficient and sustainable freight movement that includes expanding and modernizing their transportation networks, including roadways, railways, and inland waterways, to facilitate seamless connectivity between different modes of transport.
APAC has been developing intermodal transportation hubs and logistics parks strategically located at key points to facilitate the transfer of cargo between different modes efficiently. These hubs enable smooth interchange, reducing transit times and operational costs.
APAC countries have been investing in rail infrastructure to enhance connectivity and improve the efficiency of freight transportation. The integration of railways with ports and other transportation modes supports efficient intermodal operations.
Ports in the region have undergone significant upgrades to handle larger container vessels and increase throughput capacity. The integration of ports with rail and road networks allows for the smooth movement of goods to and from inland destinations. Collaborative efforts between governments and private sector stakeholders have been instrumental in funding and implementing multimodal logistics infrastructure projects.

The development of infrastructure supporting multimodal logistics in the APAC region is crucial for the efficient movement of goods, cost optimization, and the reduction of carbon emissions. By investing in integrated transportation systems and embracing sustainable practices, APAC countries aim to strengthen their logistics capabilities and enhance their competitiveness in the global trade arena.
Containerization Accelerating Growth in the Sector
Containerization has played a crucial role in aiding the growth of multimodal logistics in the APAC region. Containerization provides a standardized and seamless method of transferring cargo between different transportation modes. Containers can be easily loaded onto ships at ports, transferred to trains or trucks for inland transportation, and then delivered to their final destinations. This simplifies the logistics process and reduces the need for handling and repackaging cargo, leading to more efficient and faster freight movement.
The use of containers have further reduced the need for intermediate handling and transshipment of cargo. This results in cost savings and reduces the risk of cargo damage during transfers between different transportation modes.
Containerization has led to the development of container terminals at ports in the region. These terminals are equipped with specialized container-handling equipment, facilitating quick and efficient loading and unloading of containerized cargo. This improves port productivity and reduces vessel turnaround times.
The rise of e-commerce in APAC has driven an increase in parcel shipments. Containerization has facilitated the handling and movement of small parcels and e-commerce goods, making it easier to integrate them into multimodal logistics networks.
The use of containers has contributed to environmental sustainability in multimodal logistics. More efficient transportation and optimized routes lead to reduced energy consumption and greenhouse gas emissions.
Overall, containerization has revolutionized the logistics industry and has been a significant enabler of multimodal logistics growth in the APAC region. It has simplified cargo handling, improved transportation efficiency, and facilitated the seamless movement of goods across different modes of transportation, enhancing the overall competitiveness of APAC's supply chains.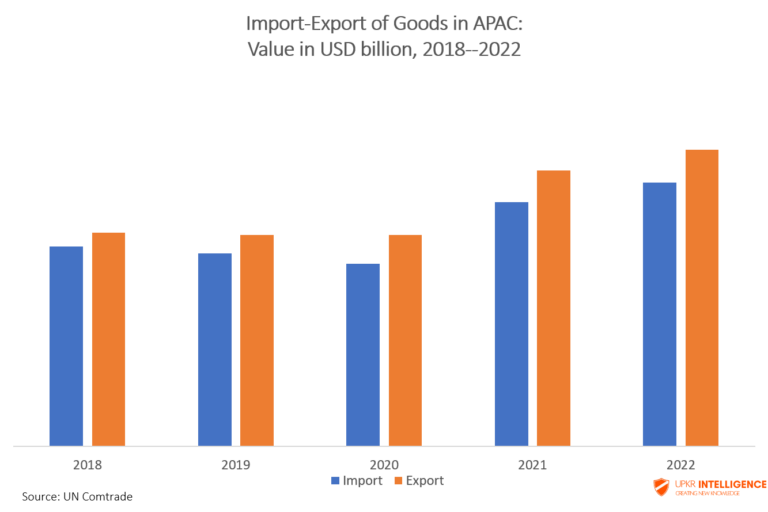 The multimodal freight transport market in the APAC region is highly competitive, driven by the region's significant economic growth, international trade volumes, and increasing demand for efficient logistics solutions. The competition in this market is shaped by various factors, including the diversity of industries, geographical challenges, infrastructure development, and advancements in technology.
Large global logistics companies, such as DHL, FedEx, UPS, Kuehne + Nagel, DB Schenker, and Expeditors, have a substantial presence in the APAC region. These companies leverage their extensive networks, technological capabilities, and service offerings to compete for market share.
Regional logistics companies with in-depth knowledge of the APAC market and local expertise and major airlines with dedicated cargo divisions also compete effectively by tailoring their services to specific countries or industries within the region. 
Companies involved in port operations, container terminals, and port-related logistics services compete for multimodal freight transport business by offering efficient and well-connected port facilities. Companies operating rail and road transport services in the region, including both private and state-owned enterprises, contribute to the competition by improving their service offerings and expanding their networks.
Companies that embrace technology and digital solutions to enhance visibility, optimize route planning, and streamline operations have a competitive edge in the APAC multimodal logistics market. Competing on cost and service differentiation is common in the APAC multimodal freight transport market. Companies strive to offer competitive pricing, faster transit times, reliability, and value-added services to attract customers.

The APAC region's dynamic and rapidly evolving logistics landscape fosters fierce competition, encouraging companies to continuously innovate and improve their services. As trade volumes and economic growth continue to drive demand for efficient and reliable logistics solutions, competition in the APAC multimodal freight transport market is expected to remain intense.
Why buy this report on the APAC Multimodal Freight Transport Market?
UPKR Intelligence market research reports enable you to:
Understand the market

Pinpoint the key industry trends

Identify threats and opportunities

Quickly build competitive intelligence
This report on APAC Multimodal Freight Transport Market:
Provides the data on economic status of 

APAC region

, trade relations, modal engagement and market size information to assist with planning and strategic decisions.

It helps you understand market dynamics to give you a deeper understanding of industry competition and the supply chain.
Analyses key performance and operational metrics so that you can benchmark against your own business, that of your customers' businesses, or your competitors' businesses.
The APAC Multimodal Freight Transport Market research report includes:
Analysis of the important factors influencing this industry's history, including data
Five-year market projection and trends identified
For the primary products and markets, thorough research and segmentation
Analysis of key players in the market, their shares and the competitive environment

 
UPKR Intelligence is a market research company fully concentrated on the logistics domain. We cover the entire market including the dynamic trends, various segments and the market competition via the analysis of the companies operating in the market to arrive at conclusions to aid the needs of our clients. 
Market Overview


Economic Overview of APAC
Overview on APAC Multimodal Freight Transport Market
Inter-modal Share of Freight Transportation in APAC

Market Dynamics


Market Drivers
Restraints

Value Chain Analysis
Porter's Five Forces Analysis

Spotlight on Infrastructural Development in APAC (Covers Investment on Infrastructure)

 

Government Regulations and Initiatives
Spotlight on Trade Activities in APAC
Insights on Factors Affecting the Freight Rates

Spotlight on Containerization in APAC Transportation Sector

 

Market Segmentation


By End-Users


Industrial and Manufacturing
Oil and Gas
Consumer and Retail
Food & Beverage
Construction
Other End-User Industries

By Destination


Domestic
International

By Country 




China
Japan
Australia
Indonesia
India
Rest of APAC

Competitive Landscape


Market Concentration Overview
Company Profiles


DHL
Kuehne + Nagel
DB Schenker
UPS
Expeditors
CEVA Logistics
DSV Panalpina
Geodis
Nippon Express
Hellmann Worldwide Logistics

Outlook and Opportunities in the APAC Multimodal Freight Transport Market
Appendix


GDP Distribution and Growth by Economic Activities
Inflation Statistics
Contribution of the Transport and Storage Sector to GDP