APAC RAIL FREIGHT TRANSPORT MARKET - GROWTH, TRENDS AND FORECASTS (2023-2028)
Rail freight is a form of transportation in which rail carriages use tracks to deliver cargo over land. Depending on the items being shipped and the demands of the shipper, shipments may be placed in a single rail car or even a whole train. APAC rail freight transport market covers the economic overview of the region while covering the industry segmented by end users, destination, type, temperature and country.
Total Number of Companies in APAC: 14,643,209
Number of Companies in Transportation and Warehousing Sector in APAC: 312,593
Market Size of the APAC Rail Freight Market: ~USD xx million
Brief on the APAC Rail Freight Transport Market
The APAC Rail Freight Transport Market is estimated to grow with a compounded annual growth rate of about xx% during the forecast period of 2023-2028.
The Asia-Pacific (APAC) region's rail freight transport sector is expanding rapidly and going through several changes as a result of a number of causes, including, among others, the Belt and Road Initiative (BRI) of China, the booming e-commerce sector, and economic growth.
Strong economic expansion in the region, which includes nations like China, India, Japan, Australia, and others, has increased demand for transportation services, particularly rail freight. 
China, one of the biggest customers of rail freight services worldwide, played a significant influence in the APAC rail freight market. Additionally, the Belt and Road Initiative (BRI) of China is improving freight linkages with nearby nations and expanding rail networks.
To increase connectivity and the effectiveness of freight transportation, countries in the region are making significant investments in the development of rail infrastructure, including high-speed rail and freight corridors.

Governments and businesses are placing a greater emphasis on eco-friendly transportation options, which has led to a focus on lowering carbon emissions and implementing green practices in rail freight transport. In order to improve logistics efficiency, minimize pollution, and lower total transportation costs, APAC countries are investigating and implementing multimodal transportation systems, merging rail with other modes like road and sea transport.
International Trade Growth in APAC Region​
The growth in international trade led to higher cargo volumes being transported across borders. Rail cargo played a crucial role in handling the movement of goods over long distances within the region and between countries, especially for bulk commodities like coal, iron ore, and agricultural products.
China's ambitious Belt and Road Initiative, aimed at enhancing connectivity and trade across Asia, Europe, and Africa, was driving the development of new rail routes and improving existing rail networks. This initiative increased rail cargo volumes within the APAC region and facilitated trade with neighboring countries and regions. Rail transport offered a reliable and cost-effective means for cross-border trade in the APAC region.
The region's growing participation in international trade has led to increased imports and exports, driving the need for efficient transportation of goods via various modes, including maritime, air, and rail.
APAC has emerged as a significant manufacturing hub for various industries, including electronics, automobiles, textiles, and more. The production of goods in these sectors has contributed to higher cargo volumes, requiring efficient transportation solutions. 
Rail cargo services are used to transport goods between countries with well-established rail connections, streamlining logistics operations and reducing transit times compared to other modes of transport.
Governments in the APAC region have implemented policies and trade agreements that promote cross-border trade, further boosting cargo volumes. Initiatives like China's Belt and Road Initiative and trade agreements like the Comprehensive and Progressive Agreement for Trans-Pacific Partnership (CPTPP) have facilitated increased trade flows.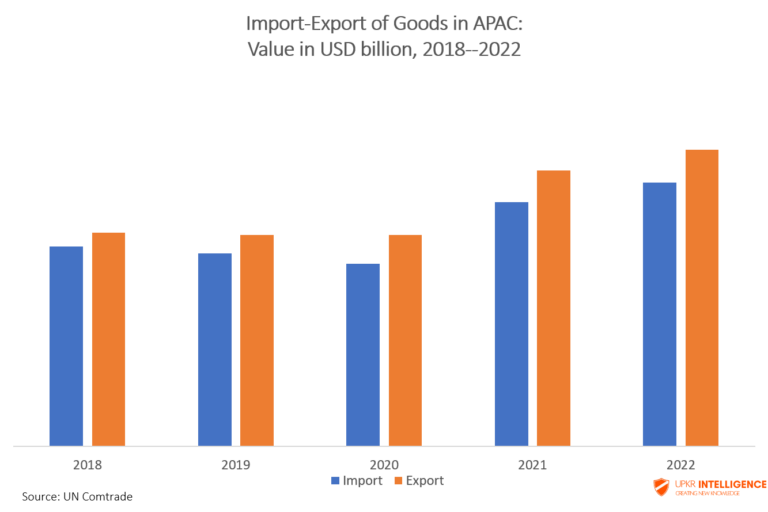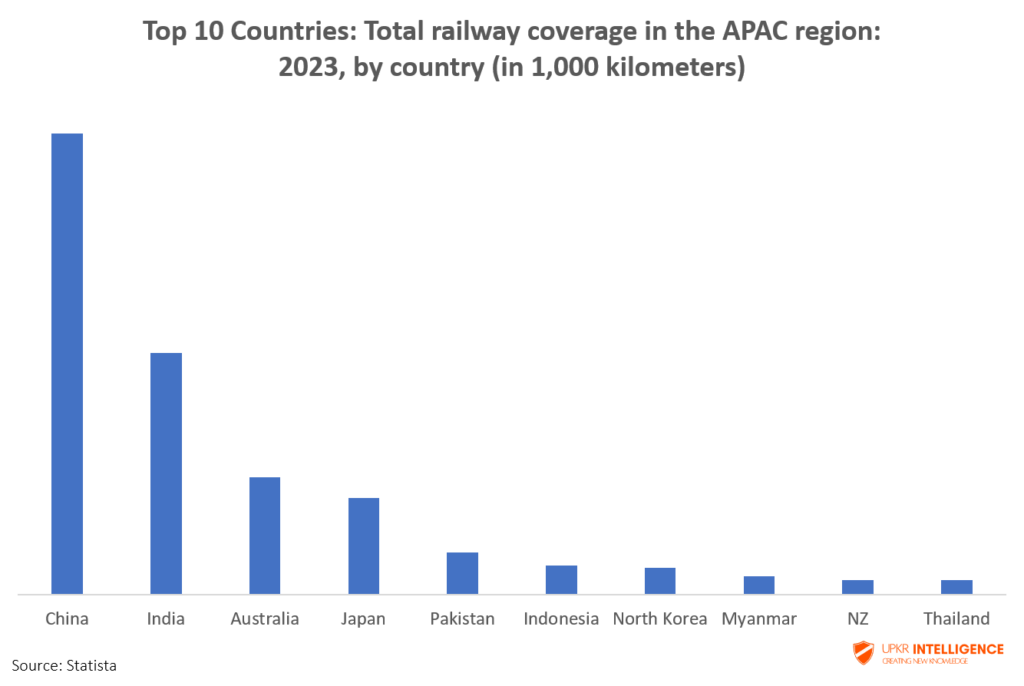 The necessity to meet the rising demand for freight transportation services in a region experiencing rapid economic growth and increased trade activity fuels competition in the APAC rail freight industry.
To acquire a competitive edge and meet the changing needs of clients in the area, market participants are constantly working to enhance their services, grow their networks, and use technology.
State-owned or government-controlled railroads predominate in the rail freight market in many APAC nations. Large rail networks are frequently run by these state-owned organizations, which also manage a sizable percentage of the region's freight transportation. Along with this, there are private rail operators who compete for rail freight business alongside state-owned railways.
In the APAC area, with the increased popularity of intermodal transportation, providers of intermodal services compete to deliver effective and adaptable logistical solutions. The market for rail freight is also contested by foreign freight forwarders with a significant regional presence in APAC.
Businesses that invest in and use cutting-edge technology, such automation, predictive analytics, and IoT-based tracking systems, get a competitive advantage by providing better visibility, operational efficiency, and customer service.
As more and more companies look for environmentally friendly transportation solutions, rail operators who concentrate on sustainability and eco-friendly operations may gain a competitive edge.
Industry sources claim that CRC is one of the leading key players in the APAC region accompanied with JR Express and Indian Railways among others.
Why buy this report on the APAC Rail Freight Transport Market?
UPKR Intelligence market research reports enable you to:
Understand the market

Pinpoint the key industry trends

Identify threats and opportunities

Quickly build competitive intelligence
This report on APAC Rail Freight Transport Market:
Provides the data on economic status of APAC region

, trade relations, modal engagement and market size information to assist with planning and strategic decisions.

It helps you understand market dynamics to give you a deeper understanding of industry competition and the supply chain.
Analyses key performance and operational metrics so that you can benchmark against your own business, that of your customers' businesses, or your competitors' businesses.
The APAC Rail Freight Transport Market research report includes:
Analysis of the important factors influencing this industry's history, including data
Five-year market projection and trends identified
For the primary products and markets, thorough research and segmentation
Analysis of key players in the market, their shares and the competitive environment

 
UPKR Intelligence is a market research company fully concentrated on the logistics domain. We cover the entire market including the dynamic trends, various segments and the market competition via the analysis of the companies operating in the market to arrive at conclusions to aid the needs of our clients. 
Market Overview


Economic Overview of APAC
Overview on APAC Rail Freight Transport Market
Inter-modal Share of Freight Transportation in APAC

Market Dynamics


Market Drivers
Restraints

Value Chain Analysis
Porter's Five Forces Analysis
Spotlight on Infrastructural Development in APAC (Covers Investment on Infrastructure, Length of Railway lines set-up and planned)
Government Regulations and Initiatives
Spotlight on Trade Activities in APAC
Insights on Factors Affecting the Freight Rates
Market Segmentation


By End-Users


Agriculture, Fishing and Forestry
Construction
Manufacturing
Mining
Trade (Wholesale and Retail)
Others

By Destination


Domestic
International

By Type


Containerized
Non-Containerized

By Temperature


Controlled
Non-Controlled

By Country


India
China
Malaysia
Australia
Rest of APAC

Competitive Landscape


Market Concentration Overview of APAC Rail Freight Transport Market
Company Profiles

China Railway Corporation (CRC)
Japan Freight Railway Company (JR Freight)
Indian Railways
PT Kereta Api Indonesia
Korean State Railway
Australian Rail Track Corporation (ARTC)
Kazakhstan Temir Zholy (KTZ)
Taiwan Railways Administration (TRA)
MTR Corporation
KiwiRail

Outlook and Opportunities in the Market
Appendix


GDP Distribution and Growth by Economic Activities
Inflation Statistics
Contribution of the Transport and Storage Sector to GDP
List of Tables: 
Contribution of the economic sectors to GDP of APAC – by country
Railway transport infrastructure in APAC (Total and by country)
Railway enterprises, economic performances and employment in APAC (Total and by country)
Railway transport measurement of goods transported in APAC (Total and by country)
Railway traffic in APAC (Total and by country)